Re-Engaging the Defunct & Historic Welland Canals
Selected Project
Re-Engaging the Defunct & Historic Welland Canals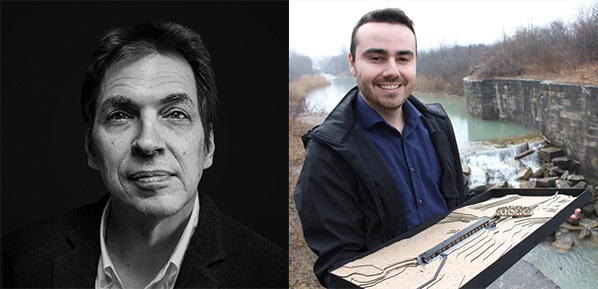 David Donnelly | Thier+Curran  Architects Inc.
Martin Bressani | McGill University
Grand infrastructure projects require enormous resources to realize; they shape culture and transform landscapes. What happens when they are made obsolete by newer, more effective projects? This proposal seeks to reuse an existing, defunct infrastructure project to tell the unique, embodied cultural history of its construction and the subsequent transformation of its community and landscape.
The Welland Canal has had four incarnations (1833, 1848, 1887, 1932), and each time its construction has profoundly shaped and changed the Niagara Region and Canada. Today, the old locks of the first three canals that once carried ships from Lake Ontario to Lake Erie are dispersed throughout the Niagara Region, often fenced off, inaccessible, overgrown and in a continual state of disrepair. This project investigates the first three iterations, now defunct, and their potential relationship with the contemporary city.
The focus of the project is on the design of the park system, titled Memory. It is located in proximity to Niagara Falls. This park utilizes the remaining locks of the Third Canal. The proposal connects the St. Catharines Museum, the Thorold History Museum and the current Welland Canal. The incredible story of these canals is exploded and pieced along the remaining portion of the Third Canal. Here, a series of museum pavilions engage with the 19th-century stone locks. Each pavilion communicates a fundamental piece of the passionate story of these great infrastructure projects. Three pavilions are featured, grappling with the engineering triumphs, the human tragedy and our contemporary memory and understanding of these canal projects.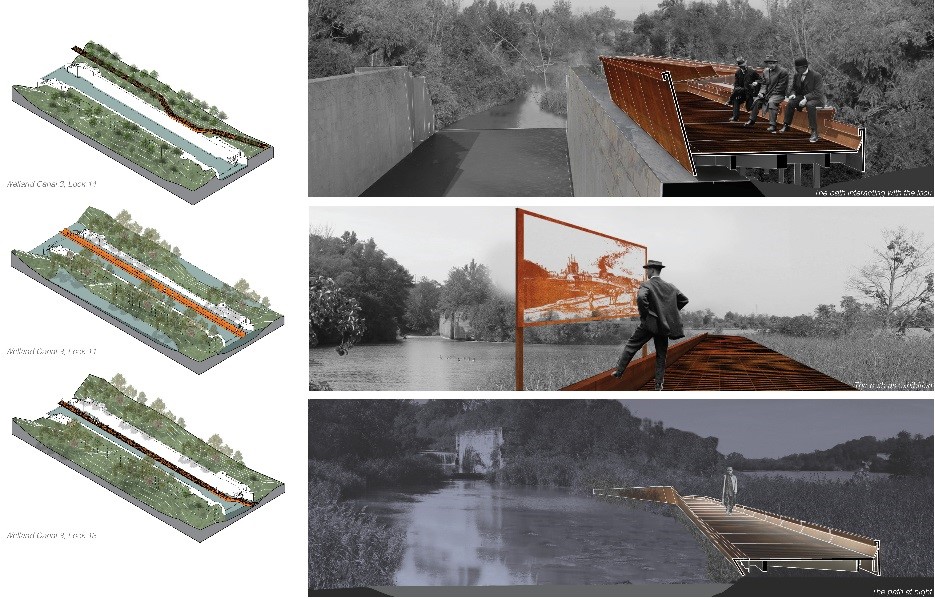 Jury Comments
"This speaks to the history of westward expansion and pace of change in the communities. Rapidly built infrastructure was abandoned quickly as shipping needs changed. It speaks to the potential shift we might see in the future as we abandon highways and roads."
"The presentation of the images, and clear statement of the challenge, was beautifully presented. The idea of journeying through the landscape to arrive at discrete industrial relics is poetic and powerful."
"This project showcases the power of industry and the obligation we have, socially, to reconcile our use of the land with the natural environment, creating a balanced legacy for future generations. This project could be an important linkage to our recent cultural history and drive ecotourism to communities along a still functional industrial heartland."