Story Pod – Grassroots Transformation of Civic Space
Selected Project
Story Pod – Grassroots Transformation of Civic Space

Kelly Buffey, Robert Kastelic and Aaron Finbow | Atelier Kastelic Buffey Inc.
Chico Ezechiels | CFlow Design
Scott Munro, Bill Mctavish and Ted Kurello | HollisWealth
Mark Agnoletto, Stephanie Dyriw, Jeff Bond and Tom Minichiello | Town of Newmarket
Project Summary
The 'Story Pod' is a community-supported lending library situated in downtown Newmarket, Ontario. Placed on the edge of a prominent civic square, the pod reinforces the municipality's plan to use contemporary design as a means of creating a lively, innovative public hub for community exchange.
The Story Pod originated in a public-private partnership between the Town of Newmarket and local business HollisWealth. The team desired to build within the public sphere, intent on fostering values of sharing and inclusion. The idea for a mobile book exchange emerged with books donated by Scholastic and donation of funds provided by HollisWealth to construct the pavilion, which was ultimately built by Newmarket employees.
Akb Architects was approached by the Town with the opportunity to design the project on a pro-bono basis. Based on the guidelines of compactness, transportability, energy efficiency and ease of construction, Akb utilized a simple pure form to maximum capacity and impact.
During the day, two walls pivot open, encouraging people to enter. The dark wood exterior gives way to an interior clad in warm plywood, housing books and various levels of integrated seating. At night, LED lights powered by rooftop solar panels illuminate the Story Pod, providing a beacon for night markets and community events.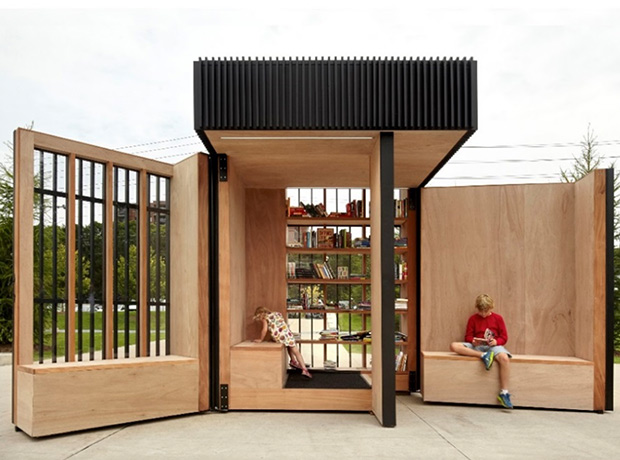 The Story Pod is an unprecedented success for the Town of Newmarket in its effect on the community. The project is a compelling example of the value of public-private partnerships and the tremendous impact that a small structure can have on an urban scale, strengthening both community and city.
Jury Comments
"A wonderful project that shows the potential of small, highly polished works of architecture to form partnerships with private- and public-sector needs."
"As a prototype for the sort of multidisciplinary project that fosters collaboration, it sets the stage for a finely detailed, mobile public intervention that creates community."
"This sophisticated project realizes the potential in craft, cooperation and ability of architects to lead in the creation of the built environment. It is a project worth studying further to show how architecture affects all of us."